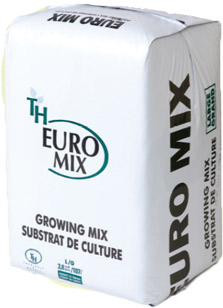 An economical professional germination mix without any perlite or vermiculite. It contains extra-fine grade sphagnum peat moss (100%), calcitic lime, dolomitic lime, wetting agent and starter fertilizer with trace elements. It promotes seed germination and seedling growth, resulting in healthy plants with a strong root system.

Tailles Disponibles : 3.6 pi3 (210L) y 64 pi3 (3600L).
Components:
Extra Fine grade Peat Moss 100 %
Dolomitic Limestone (Super Fine)
Calcitic Limestone
Non-Ionic Wetting Agent (Granular)
Starter Fertilizer Charge (Granular)
Analyze Chimique: Méthode S.M.E.
pH*
E.C. mS/cm
N-NO3
P
K
Ca
Mg
Fe
Zn
Cu
Mn
B
SO4
N-NH4
PPM
5.5-6.0
0.8-1.0
83
2.1
92.4
38
50.5
1.94
0.04
0.02
0.9
0.05
167
9
Analyze Physique
Densité Sec
Teneur d'Humidité
Espace d'Air
Retention d'Eau
Gros Fibre
Moyen Fibre
Fin Fibre
Poussières
(g/l)
%
%
X poids sec
+8 Maille
(2.38 mm)
+18 Maille
+100 Maille
-100 Maille
75-85
40-50
18-25
9-12
5-15 %
20-40 %
50-60 %
< 7 %