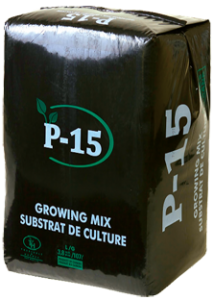 A cost-effective high porosity growing mix for good aeration and drainage, specifically formulated for the cultivation of water sensitive plants and for winter planting. It contains extra coarse grade sphagnum peat moss (85%), coarse perlite (15%), calcitic lime, dolomitic lime, wetting agent and starter fertilizer with trace elements.

Tamaños Disponibles: 3.6 pies3 (210L) y 64 pies3 (3600L).
Components:
Extra Coarse Peat Moss 85 %
Horticultural Perlite (# 4) 15 %
Dolomitic Limestone (Super fine)
Calcitic Limestone
Non-Ionic Wetting Agent (Granular)
Starter fertilizer Charge (Granular)
Análisis Químico: Método S.M.E.
pH*
E.C. mmhos/m
N-NO3
P
K
Ca
Mg
Fe
Zn
Cu
Mn
B
SO4
N-NH4
PPM
5.5-5.8
1.3-1.5
72
4.02
125
44
34
1.2
0.09
0.02
0.39
0.04
170
0.5
Análisis Físico
Densidad Seca
Contenido de Humedad
Espacio de Aire
Retención de Agua
Fibra Gruesa
Fibra Media
Fibra Fina
Finos
(g/l)
%
%
x peso seco
+8 Malla
(2.38 mm)
+18 Malla
+100 Malla
-100 Malla
70-85
35-45
18-22
8-12
25-40%
15-25%
35-45%
7-10%